Description
Samsung 7.5kg BubbleWash Front Load Washer with Steam WW75J54E0IW
The 7.5kg front loader washing machine from Samsung takes cleaning seriously. The Steam Cycles clean clothing on a microscopic level removing bacteria for added peace of mind. For a deeper more intensive clean, Bubble Wash and BubbleSoak functions are available. The quick wash function reduces washing time for when you need your clothes in a hurry and the Smart Check function lets you easily troubleshoot problems with your washer from your smartphone. This washing machine has a 4-star energy rating and 4.5-star water rating helping reduce running costs.
BubbleWash & BubbleSoak functions
Remove dirt from your garments effectively thanks to the nifty BubbleWash and BubbleSoak functions. BubbleWash mixes water and detergent to create foam at the beginning of the cycle. BubbleSoak treats your load prior to washing by soaking it in bubbles. These two functions break down grime for improved washing results.
Hygiene Steam cycle
For the health and well-being of you and your family, you can activate the Hygiene Steam cycle to eliminate common allergens and bacteria in your garments. This function releases steam from the bottom of the drum to ensure your load is extra clean and sanitary.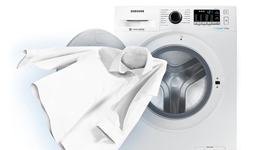 QuickWash program
If you forget to add a few garments in your main load, or want to wash your gym clothes immediately after a workout, the QuickWash program can wash a 2kg load in 15 minutes.
Smart Diagnostics
Using Samsung's Smart Check error-monitoring system, your washing machine can detect and diagnose certain problems - and then let you know how to fix those problems, directly on your Smartphone.
Payment & Security
Your payment information is processed securely. We do not store credit card details nor have access to your credit card information.